The Pueblo people of New Mexico make a type of pottery doll called the Storyteller. It is a person sitting with their mouth open telling a story, with children crawling all over their arms, legs, back, all listening to the story. I've loved the image since living in New Mexico as a child. I even have a small one that has four children on it.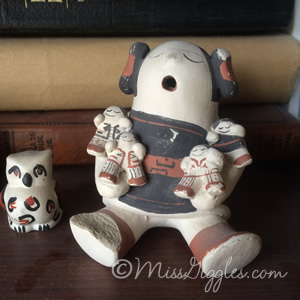 I love the idea even more now because it is an image I live any time I sit down, and especially if I sit on the floor. Shimri is a total momma's girl and needs to be near me as much as possible. Shimei is a complete cuddle bug and loves to crawl over and put his head in my lap so I'll rub his back while he cuddles his washcloth and sucks his thumb. And Iddo needs me to read her books or sit still so she can climb me and even she needs to put her head in my lap for a cuddle at times too.
Sometimes they get frustrated because it doesn't seem like my lap is quite big enough for all three of them. Yet somehow they all manage to find a spot with Mom. And together we are telling a fabulous story.
—–
Help us help other families find their stories. Donate on behalf of me or Brett towards Resolve.