When I was in college my mom made me a nativity out of scrap 2x4s she picked up at the home construction sites in our neighborhood. It's a wonderful little set and I love pulling it out every year. There are 7 blocks total – the Holy family, a star, angels, shepherds, a donkey, wise men, and Samuel with a llama.
It's a pretty indestructible set so we put it out where Iddo could play with it. Turns out she loves stacking the blocks and has made some rather interesting nativity stacks with them. Because they are scraps though they aren't exactly square cuts and so she's a bit limited in her stacking possibilities. I thought we could make her a set of nativity blocks with squarer edges. We made this set for her.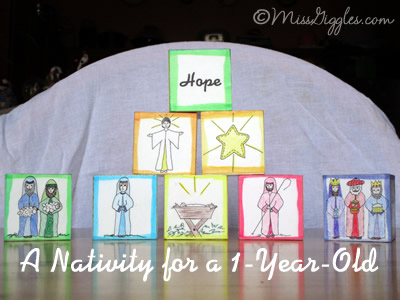 This is how we did it.
Materials:
2 sets of 2″ wooden blocks from Hobby Lobby (8 blocks total)
Multi-Media Paper. Or card stock. Or just regular paper.
Nativity Blocks PDF. The drawings we used were done specifically by my mom for Iddo. You will need to find your own clip arts, drawings, or stickers to use
Crayola Watercolors
Crayola Colored Pencils
Mod Podge
When designing the blocks we knew we wanted an image on one face and a label on another. We then decided to put a different scripture related to the image on the other four faces of the cubes. Since the blocks came in packs of four we had an eighth block to use and decided to put words related to Christ and the nativity on that block.
The scriptures we used are:
Baby Jesus
Mary
Joseph
Star
Angels
Shepherds
Wise Men

Glory
Peace
Joy
Hope
Light
Love
How To:
I printed the PDF on to the craft paper and then used the colored pencils to color in the drawings.
I used the water colors to give an edge to each square before cutting them out. The colored edges gave a bit of design to all the squares. I thought about printing the squares for each block on different colors of scrap book paper, but the water colors were a lot easier.
A little Mod Podge to glue the paper down and then seal it against toddler antics and Iddo has a nativity set she can stack to her heart's content.