The morning before Thanksgiving in 2011 we found out I was pregnant for the first time. After two years of nothing we finally had something. And it was the most amazing something ever. We floated for weeks. The first ultrasound one week later proved it was true. Another week and at the second ultrasound we saw a little flicker of a heartbeat. The following week, at 7 weeks 1 day, the heart was a little bigger and beating strong. We could see our child growing. Miracle.
Three days later, one week before Christmas, one week before we were going to tell our families our exciting, miraculous news, I gushed blood. Lots of it. And I was empty. I felt a hollow emptiness in me. The ultrasound the next day confirmed it.
Our baby, our son, had died. We only knew him from his heartbeat.
He left us hope. After many tears, tears that still fall on occasion, we still had hope.
When I got pregnant again two months later we were never given the chance to know that child's heart before he too died.
But we still had hope.
Our beautiful daughter was born. And she needed a sibling.
I got pregnant again. Again we floated. We called each other just to tell each other I was pregnant because we had to tell someone. We saw our baby for the first time at 5 weeks. At our 6 week ultrasound we saw a beautifully flickering heartbeat. At 7 weeks 2 days I gushed blood. Lots of it. The ultrasound the next day confirmed it.
Our baby, our child, had died. We only knew her from her heartbeat.
October is Pregnancy and Infant Loss Awareness Month. The 15th of the month is specifically designated as National Pregnancy and Infant Loss Remembrance Day. Several other countries have also adopted it in their nations.
In honor of the millions of children whose hearts stopped too soon, please join with us tomorrow in participating in the International Wave of Light. Wherever you are, at 7:00pm, light a candle and leave it burning for an hour. As the world revolves a wave of light will circle the globe.
Still Standing has a list of other suggestions of ways to honor these children as well.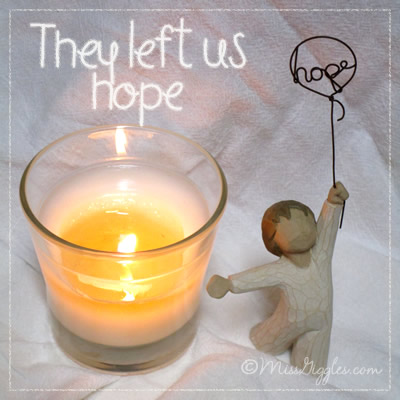 I will always carry our children's hearts in mine. In their small ways they are a light to our family. And they left us hope.