Way back when I worked at the fabric store (2006 & 2007), I bought a lovely large fall print I was going to use as a large border on an appliqué pumpkin quilt wall hanging. In that time I completely changed my mind with what I wanted to do with it. And when I finally cut it out this year it was as large blocks instead of as a border. And rather than doing appliqué I did some thread sketching.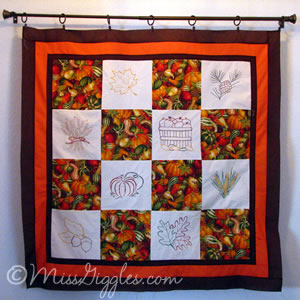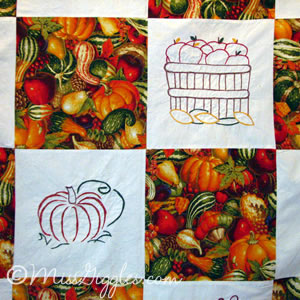 I only got as far as putting the top together this year. My goal is to have it quilted and bound by next Fall. Maybe by next year I'll have figured out how I want to quilt it.
But I started. And often that's more than half the battle. And I really like this quilt. It's turning out just how I pictured in my head. It's taken me years before I can do what's in my head. I'm really enjoying this. Let's hope the quilting works out just as well.