When Iddo was 6 months old I wrote a post about all the things we had that had made those first 6 months easier – Baby paraphernalia six months in. Now that she's entering the toddler stage we have slightly different list of things we love.
Travel & Safety
Britax Marathon Car Seat
– We're still in love with this car seat. In fact, we love it so much that it's what we'll be buying the current model for future babies as well. She still fits great in it rear facing at 20 months even with her long legs. She just bends them or hangs them wherever she wants.
Mei Tai Baby Carrier – This I actually made (using basically these instructions). It can resemble an unruly squid when the ties get lose in a bag, but it rolls up real compact and it's super easy to put her, even at the toddler age, on my front or my back. When we were still breast feeding I was able to do it while carrying her without any problems.
Diapering
Flip Diapers – We're still using the same covers (although they are starting to wear out a bit, but that's because we rotate through them so often since we only have 8). We're still using the same inserts, knowing that she needs 1 full-size and 2 newborn-size in her night diaper, and they're working great. We're planning on using their training covers when we get to that point.
Small Planet Wise Wet Bags
– They are the perfect size for holding wipes, a few diapers, and a small bottle of hand sanitizer. It's still what we grab most from our diaper bag. In fact I'm probably going to get some more because they are also the perfect size to keep small toys together in the diaper bag or a back-pack as well as keeping snacks in. They're just a great all around bag.
Eating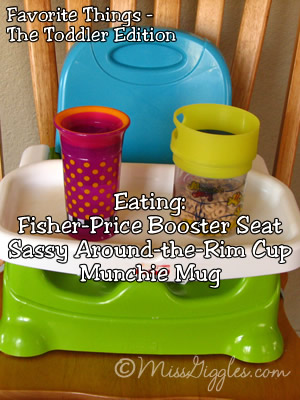 Fisher-Price booster seat
– This has been the absolute best high-chair/booster seat. It's super easy to clean. We took it with us this summer when we traveled and she always had her spot to sit at. We took it with us to the chili cook-off at church for Halloween and she was able to eat her dinner while we ate ours and didn't have to balance her on our laps or switch off who was eating. It's great!
Sassy Grow Up Cup
– We got tired of trying to clean the no-spill valves in her sippy cups (because it's almost impossible to really get those clean), but she hasn't yet mastered the art of drinking from a normal cup. Enter this incredible invention! It's an around-the-rim sippy cup. She drinks from the rim just like a normal cup but it has this rubber ring with ridges on it that she has to suck through and it keeps it from spilling unless she flings it in anger. She caught on to how to use it as soon as we gave it to her. It's brilliant!
Munchie Mug
– By far the best spill-proof snack container. It has overlapping fabric pieces that she sticks her hand through to grab the largest handful of Cheerios and craisins (our current snack of choice) that she can and doesn't spill when dropped or carried upside down. It comes with a separate lid you can screw on to keep snacks fresh but we've never used it because we don't keep it in the diaper bag unused for that long. But if you did, it has that lid. The handle in the mug makes it real easy for her to carry around with her too.
Playing
Squigz
– Yes, these say they are for kids 3 and up, so we just watch her when she's playing with them. Because Iddo's been getting a kick out of them for several months now. You can stick them to your forehead, the window, mirrors, each other. They are made from food-grade silicon and are easily washable. The hard round knobby parts were perfect for her to chew on when she was teething because they gave her some resistance to her gums. I have yet to meet a person of any age who doesn't like Squigz.
Moluk Bilibo
– We have a big one and two little ones. The mini Bilibos
were perfect this summer when we found ourselves at a mountain stream and needed something fun to float down the stream. They also worked great at a lake beach. You can put them on your head. You can put things in them. They've been the perfect size for her little hands. Now that she's getting bigger she's enjoying her regular sized one as well. She likes to sit on/in it or stand on it. It's great for sticking Squigz in. It's fun to throw balls into and watch them roll around. I'm sure we'll find dozens of other uses for these as her imagination grows.
Other
Aden + Anais muslin swaddle blankets
– These are still a favorite. And now that she likes having her toys swaddled, it's wonderful that they are thin enough that I can actually wrap them around a toy and have it be tight enough that they don't come unwrapped for days or weeks at a time. They're also the perfect blanket for throwing in the diaper bag because they don't take a lot of room and sometimes you just need to play "Where is she?" (Iddo's version of peek-a-boo) on the go.
Momo Baby Soft Sole Leather Shoes
– Have you ever seen a kid learning how to walk wearing shoes with regular soles? It's like watching a dog wear shoes. It's awkward. We bought Iddo a pair of these a month or so before she turned 1 when she really started being interested in walking around holding our fingers. They are one of the few shoes approved by the American Podiatric Medical Association because they protect baby and toddler feet while still letting them feel the ground and allowing their feet to develop naturally. In October after she'd been walking for a few months her feet had grown and she'd actually worn out the toes on her first pair (she dragged her toes a lot when she was starting to walk), so we bought a second pair. She'll probably be outgrowing the second pair by her second birthday this summer. But by now she's gotten the walking thing pretty much down so we'll most likely be moving on to more traditional shoes next. But we've absolutely loved these shoes. And she can't pull them off so her socks stay on.
—–
It'll be a lot of fun to see what new things she'll introduce us to in the next year.