Monday I decided Iddo needed a warm jacket and pants. So I pulled out a pattern I bought years ago, some fleece I bought years ago (I have a "2" years supply of fabric), and made her a jacket and footed pants that she's going to need to grow into some but will get her through the Tucson "cold" season. Brett thought me saying "let me make her some pants real quick" after dinner was funny, but I'd already cut them out and half an hour later she had pants.
Yesterday I made a plain muslin table runner for our Thanksgiving table. Then I pulled out the fabric paints and we put turkeys on it. Iddo's turkey is absolutely adorable. Her hand print has already gotten better than when we made her a 4th of July shirt.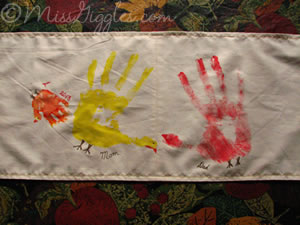 Today's projects – eat all the left-overs in the fridge. We're going to need the room. I'll be making frozen salad, cheese cake, and pumpkin muffins today that we'll eat tomorrow. And we're going to have our pre-Thanksgiving BBQ this afternoon.
Tomorrow we'll cook our 5.4 pound turkey breast and our 5 pounds of mashed potatoes. We'll make dinner rolls and cranberry sauce (for the turkey and the cheesecake). Brett will make stuffing, green beans, and gravy. We'll toss a salad. And then we start the eating the left-overs thing all over again because between today and tomorrow we're going to fill the fridge.
Friday's project will be decorating for Christmas. I can't wait to see Iddo's reaction to Christmas lights.
But the first thing we had to do today was make our list. Check. :check: