Buzzie: [to Flaps] Okay, so what we gonna do?
Flaps: I don't know, what you wanna do?
Buzzie: Look, Flaps, first I say, "What we gonna do?" Then you say, "I don't know, what you wanna do?" Then I say, "What we gonna do?" You say, "What you wanna do?" "What we gonna do?" "What you want…" Let's do SOMETHING!
Flaps: Okay. What you wanna do?
Buzzie: Oh, blimey! There you go again. The same notes again!
Ziggy: I've got it! This time, I've really got it!
Buzzie: Now you've got it. So what we gonna do?
– The Jungle Book (1967)
I always think of those vultures whenever I'm with someone and we're trying to figure out what we're going to do that day. Right now I'm trying to figure it out with a toddler whose sense of time means that this morning, yesterday, last week, three months ago, and tomorrow all happen at the same time.
On the 4th of July we filled the splash pool in the morning so the water could warm up a bit before we played in it after her nap. But her understanding of time meant she had a hard time understanding that she would get to go swimming, just not right at that moment. Time to put my doctoral degree in education and child development to work.
With a penny-print sale at Snapfish, a little photo editing skills, some clear contact paper, some page protectors, and my sewing machine, we now have a very visual representation of what we do during the day that Iddo can see and get a sense of before and after and that we will be making cookies but these things have to happen first. She loves it because it is photos of her. I love it because she is deepening her understanding of time and she doesn't spend all morning asking to do what I've told her we're doing in the afternoon.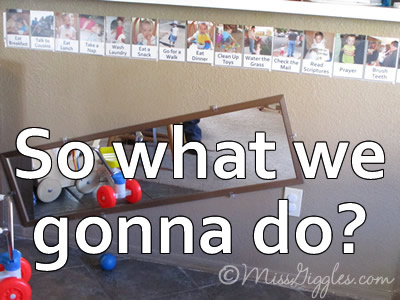 Here's how we did it.
1. Pull together photos of things you do during the day. We got photos of things that happen daily (meals, bedtime routine) as well as the weekly (talking with grandparents, going to church), monthly (going to the temple and library), and even less frequent things (going to the doctor). We did 33 photos at first but have since realized there are a few more we could use.
2. Use this template to turn the photos into 4×6 prints with a 4×4 image at the top and a written description of the activity at the bottom. The words mean nothing to her right now but she'll eventually start to associate them with the activities. Save the images as JPG images.
3. Print the photos. Snapfish does penny-print sales rather frequently. They're worth waiting for for a project like this, or any other 4×6 photos you want to print.
4. Use clear contact paper to laminate the photos. Or laminate them in the manner you most prefer.
5. Using your sewing machine and a slightly narrow zig-zag stitch, stitch across the top of the needed number of page protectors. You can make 4 pockets from each page protector. We use at most 16 photos each day so I needed 4 page protectors. Mark the middle of the page protectors in both directions and sew a tiny zig-zag down the vertical line and cut the horizontal line. Tada! Four clear pockets that are wide enough for the photos but just a bit shorter so you can get the photos in and out easily.
6. Put the pockets up somewhere that the toddler can easily see them during the day. Change out the photos as needed for each day.
And now we know what we gonna do. And most importantly, when.