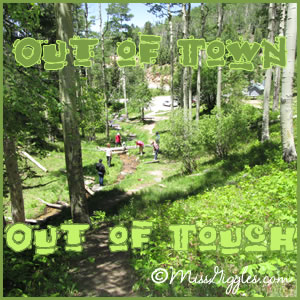 Remember when you went out of town and people couldn't get a hold of you? You'd leave your house key with a trusted neighbor and they'd check your mail and maybe turn lights on in the evening and off at night. They'd make sure your washing machine didn't accidentally flood your whole house while you were gone.
There were no cell phones in your pocket where people could still call you. If they called your number they either got no answer (because you weren't home), or they got your machine if you were super fancy. If you were gone long enough, or if some people left exceptionally long messages, your machine would fill up and that was it for messages.
There were no smart phones, tablets, lap tops for you to check email on. You couldn't log in to work from the beach/pool/picnic area to see what was waiting for you when you got back. You knew there'd be a lot of work waiting for you when you got back. But there was nothing you could do about it at the time so you just let it go.
The lack of modern conveniences like smart phones and such meant that you had to wait till you got back to tell everyone about your trip as well. You weren't updating instagram or twitter the whole time telling everyone about what you were doing and where you were (which is a security threat when you think about it, why announce your house is empty?).
Last week we were in Santa Fe with my family (we lived there from 1987 to 1991). And I had my lap top. But I didn't make checking email or social media a priority, I didn't do it. I didn't even read my comics and had a week of catching up to do when we got home. It was a week of sunny days Zachary Levi and Bert style.

And you know something? The world went right on spinning without me checking how it was doing every 20 minutes. It was great! All the emails I got, all the comics I didn't read, were all waiting for me when I got back and it didn't matter that I spent our vacation vacationing.
I can't leave town on a regular basis and leave the internet behind. But I can decide to declare regular "Sunny Days" and maintain radio silence from home more often.