In 2011 I "made" Brett drink Mt. Dew for me because the cans are Christmas colored. We rinsed out the cans and smashed them, keeping the best looking smashed ones.
In 2012 I painted the "faces" on the cans and sprayed them with a protective coat to keep the paint from scratching off.
Last night I finally used a glue gun to give them eyes, noses, and little pompoms on their "hats" and put them together as a wreath. I'm not thrilled with the bow but it was all we have right now.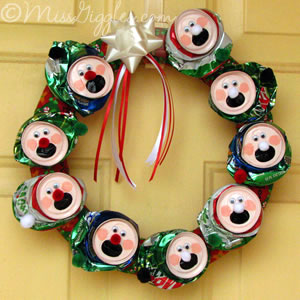 It really shouldn't have taken me two years to make it. But it makes me smile when we go in and out of our door.